About The Craft
We produce every piece entirely by hand. We work with yellow, white and rose gold, using our own alloys. Most designs are available in sterling silver as well. For white gold we use an "ultra white" alloy, requiring no rhodium plating which can wear off. We are happy to use a customer's old gold for sentimental value and credit. We also do repairs, re-sizing, and re-designs to bring new life to your treasured pieces.
Making a piece from scratch is a lengthy but rewarding process. After alloying and smelting the gold into an ingot, a rolling mill is used to roll the material down to the desired thickness of wire or sheet. Square wire can then be pulled through a draw plate to form round wire. The gold is annealed several times to maintain malleability. Pieces are cut to size and shape from templates, and filed smooth. Then the work really starts to take shape as it is carefully formed or forged with a variety of tools. Pieces are assembled and soldered together, surfaces are textured or buffed and final touchups are made before the jewellery is hand-polished to sparkle.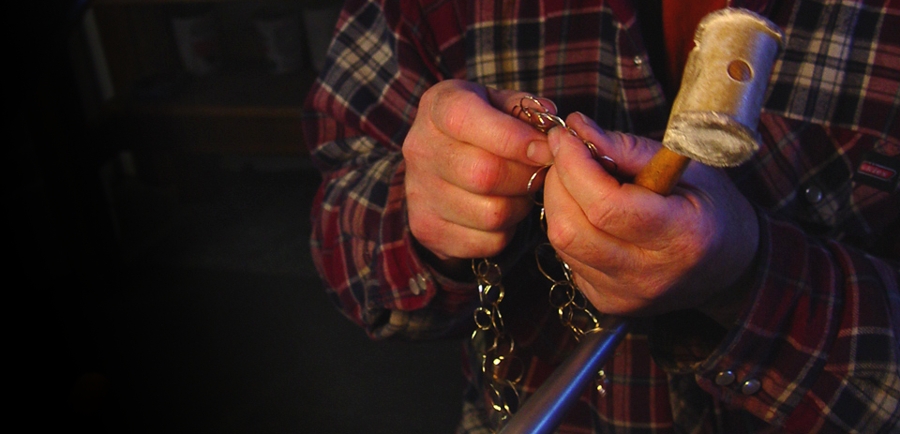 From wire comes our gypsy-like, large link style necklaces, bracelets, earrings and pendants. These styles usually have a hammered texture finish. Also from wire we forge a clean, high polished, European look. From sheet, we form bangles, cuffs, hoops, and a variety of earring styles.  "Anticlastic" pieces, which curve in opposite directions like a saddle, are also made from sheet.  Items made from sheet can have hammered, brushed, or high-polish finishes, but anticlastic styles are only high-polish.
You will find that most gold jewellery is made by rubber mold casting, machine die-striking, or electroforming. There are many multiples made at once. Casting produces jewellery with a less dense, more porous consistency than hand-rolled gold or pulled gold wire. The die-struck pieces are usually punched out of very thin stock, while electro-formed jewellery is basically hollow, and subject to denting. These kinds of jewellery are often tumbled in mass quantities for the final finish. In comparison, our hand-made pieces are durable, unique, and easy to customize!